The Ultimate Guide to Content Optimization for E-commerce Merchants
By: Brittany Corners | Published: August 3, 2015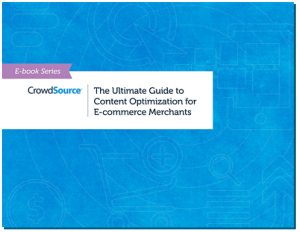 One of the biggest challenges of running an e-commerce business is attracting website traffic from qualified, ready-to-purchase visitors. No matter how well-designed your website, there is a good chance you're leaving money on the table if your content is not optimized for conversions.
Advertising Is Not the Answer
Paid advertisements will only become more expensive in the coming years. The only way to drive sales and achieve a strong return on investment is to capitalize on traffic you already have.
Winner Takes All
To out-merchandize your competition, you must deliver what customers want, how and when they want it. Content optimization is the only way to increase market share without raising your cost-per-customer-acquisition.
In the following e-book from CrowdSource, you will learn:
• How to optimize your e-commerce website for search engines
• The value of keywords and how to best leverage them in your content strategy
• Best practices for writing product descriptions and meta descriptions
• How to optimize your on-site search with proper use of product attributes
Ready to get started?